AUTOGRAPH PAVILION TICKET INFORMATION
AUTOGRAPH TICKETS
★ You've got to have one. For every signature you want. (Except free autograph guests.)
★ Purchase them in online, or on-site at the TRISTAR Autograph Ticket Booth. *Fees vary for each guest. PURCHASE TICKETS NOW!
★ Inscription ticket: Have the player add a career achievement or personalization with their signature. (Autograph not included. Must have an autograph ticket to purchase an inscription ticket.) *Fees vary. Some players may offer 1 free inscription.
★ Items are not included. You will need an item for the player to sign, and may need a certain ticket for different items. Be sure you have an item before you buy a ticket. Don't have an item? PURCHASE UNSIGNED MERCHANDISE at the official show merchandise booth!
★ Order early! You will enter the autograph ticket line by the number on your ticket. The earlier you buy, the lower your ticket number will be. Don't want to wait? Purchase an All-Access VIP Package, which also includes admission, OR check out the PLATINUM Express Pass for ultimate line priority.
Here's How the Autograph Lines Work: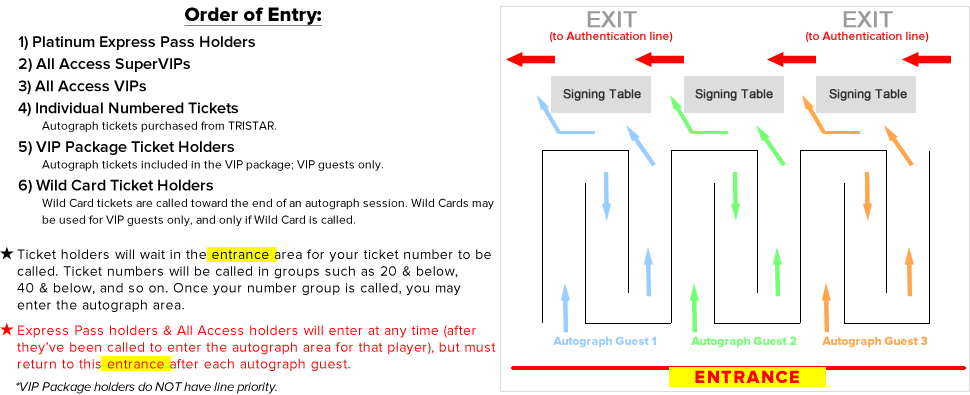 PHOTO OPPORTUNITY TICKETS
★ Have your photo taken with your favorite players! A professional photographer will take your photo and print an 8" x 10" photo within just a few minutes! (Autograph not included. Fees vary for each guest. Not available for all guests.) PURCHASE TICKETS NOW!
★ Photo ops happen before autograph sessions. Please be at the TRISTAR Photo Booth 15 minutes before the scheduled appearance time.
★No phones or cameras allowed in the photo booth area. (No selfies.) Groups are limited to the number that will fit in the photo - typically up to 4 adults
AUTHENTICATION TICKETS
★ Add TRISTAR Authentication: You can verify the authenticity of the autograph by entering the hologram number at TristarAuthentic.com.
★ New Record Authentication ticket: Add a TRISTAR Authentic hologram to your item! Purchase a New Record if you are adding the first signature to your item. PURCHASE TICKETS NOW!
★ Add-On Authentication ticket: Purchase an Add-On authentication ticket if you are adding a signature to an item that already contains a TRISTAR Authentic hologram.
Only items signed the same day at the show can be authenticated by TRISTAR. Once you have obtained your signatures for the day (or have some spare time in between signings), head over to the Authentication table, which is at the exit of the autograph signing area.