HOUSTON COLLECTORS SHOW
NRG Arena
February 9-11, 2018
SHOW INFORMATION
AUTOGRAPH SCHEDULE
FRIDAY, FEB. 9
Jon Duplantier
6:30 PM

SATURDAY, FEB. 10

Thomas Ian Nicholas

11:00 AM

Jack Youngblood

11:00 AM

Christian Kirk

11:15 AM

Lem Barney

11:30 AM

Dick Butkus

12:00 PM

Carl Eller

12:00 PM

Barry Sanders

12:15 PM

Julius "Dr. J" Erving

12:30 PM

Lawrence Taylor

12:30 PM

Billy Sims

1:00 PM

Ron Yary

1:00 PM

Mike Singletary

1:30 PM

Roger Wehrli

1:30 PM

"Rocket" Ismail

1:45 PM

Robert Brazile*

2:00 PM

Walter Jones

2:00 PM

Bob Lilly

2:15 PM

Ken Houston
3:00 PM

Vince Young

3:15 PM

Malik Jefferson
3:30 PM

*Only to appear if voted into the Hall of Fame

SUNDAY, FEB. 11

Ken Giles

11:00 AM

Brad Peacock
11:00 AM

Forrest Whitley

11:15 AM

Derek Fisher
11:30 AM

Dallas Keuchel

11:30 AM

Lance McCullers Jr.

11:30 AM

A.J. Hinch

11:45 AM

Jeff Bagwell

12:00 PM

Chris Devenski

12:00 PM

Craig Biggio
12:30 PM

Collin McHugh

12:30 PM

Luke Gregerson

1:00 PM

Ivan Rodriguez
1:00 PM

Will Harris

1:15 PM

Marwin Gonzalez

1:30 PM

Joe Musgrove
1:30 PM

Jake Marisnick

2:00 PM

Josh Reddick
2:00 PM
Autograph schedule subject to change. Check the website frequently for updates.
ADMISSION TICKETS
★ You will need an admission ticket for each day you would like to enter the show.
Purchase tickets now!
★ Ages 5 & below are FREE!
★ Advance Prices: $10 each day / per person
+ 8.25% TX state sales tax
. (Admission ticket prices will be higher on site. Cash only on site.)
★ 3-Day Admission Pass: *BEST VALUE* $27 per person in advance, includes a ticket for Friday, Saturday & Sunday.
Note: A $5 processing fee is added to each advance ticket order. We suggest purchasing admission at the same time as your autograph tickets.
AUTHENTICATION TICKETS
★ Add TRISTAR Authentication: You can verify the authenticity of the autograph by entering the hologram number at TristarAuthentic.com.
★ New Record Authentication ticket: Add a TRISTAR Authentic hologram to your item! Purchase a New Record if you are adding the first signature to your item. Purchase tickets now!
★ Add-On Authentication ticket: Purchase an Add-On authentication ticket if you are adding a signature to an item that already contains a TRISTAR Authentic hologram. Purchase tickets now!
Only items signed the same day at the show can be authenticated by TRISTAR. Once you have obtained your signatures for the day (or have some spare time in between signings), head over to the Authentication table, which is at the exit of the autograph signing area.
AUTOGRAPH TICKETS
★ Autograph ticket: You must have a ticket for each autograph you want to obtain. Fees vary for each guest. PURCHASE TICKETS NOW!
★ Inscription ticket: Have the player add a career achievement or personalization with their signature. (Autograph not included. Must have an autograph ticket to purchase an inscription ticket.) *Fees vary. Some players may offer 1 free inscription.
★ Photo Opportunity ticket: Have your photo taken with your favorite stars! Fees vary. A professional photographer will take your photo and print an 8" x 10" photo within just a few minutes! No phones or cameras are allowed in the Photo Booth. *Fees vary for each guest.
★ Items are not included. You will need an item for the player to sign, and may need a certain ticket for different items. Be sure you have an item before you buy a ticket. Don't have an item? Click here to order unsigned merchandise.
★ Order early! You will enter the autograph ticket line by the number on your ticket. The earlier you buy, the lower your ticket number will be. Don't want to wait? Order a VIP PACKAGE!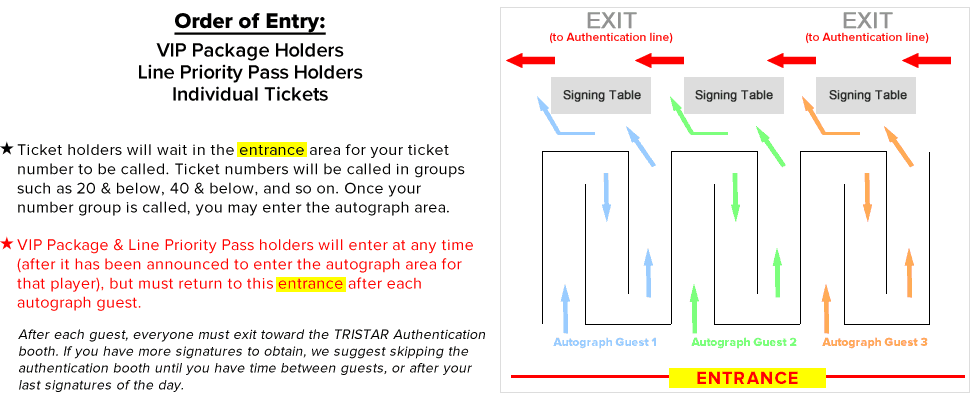 COMING FROM OUT OF TOWN?
HOTEL INFORMATION
Crowne Plaza Houston - Medical Center near NRG Park
(Conveniently located just across Kirby from NRG Park)
8400 Kirby Drive
Houston, TX 77054
Phone: (Local) 713-748-3221 (Toll Free) 800-627-6461
Special Group Rate per Night (King or 2 Doubles): $119 + taxes [reserve by Feb. 1]
CLICK HERE TO Book online now!
Or call 713-795-8407 and mention the TRISTAR SHOW for the special group rate. (Group code: TRI)
SIGN UP FOR FUTURE SHOW ANNOUNCEMENTS
Enter your email address below to sign up for announcements regarding future Houston shows and other Houston area related emails.
Copyright © TRISTAR Productions, Inc. All rights reserved.