SAN FRANCISCO COLLECTORS SHOW
COW PALACE ★ APRIL 28-30
SHOW INFORMATION
AUTOGRAPH SCHEDULE
SUNDAY, APRIL 30

Ray Bourque

11:00 am

James Lofton

12:00 pm

Joe Montana

12:15 pm

Dwight Clark

12:30 pm

Jimmy Hart

12:30 pm

Hulk Hogan

12:45 pm

Ricky Steamboat

1:15 pm

Mike Tyson

1:15 pm

Fred Biletnikoff

1:30 pm

Dennis Rodman

1:30 pm

Cliff Branch

1:45 pm

Artis Gilmore

2:00 pm
Autograph schedule is subject to change. Check the website frequently for any schedule changes.
ADMISSION TICKETS
★ You will need an admission ticket for each day you would like to enter the show. TICKETS MAY BE PURCHASED AT THE SHOW.
★ Ages 5 & below are FREE! Children ages 6-12 are $10 each day (per child) on-site.
★ Advance Prices: $10 each day / per person. (On-site tickets are $12 a person on Saturday & Sunday.)
★ 3-Day Admission Pass: *BEST VALUE* $26 per person, includes a ticket for Friday, Saturday & Sunday. Available in advance only.
Note: A $5 processing fee is added to each advance ticket order. We suggest purchasing admission at the same time as your autograph tickets.
AUTHENTICATION TICKETS
★ Add TRISTAR Authentication: You can verify the authenticity of the autograph by entering the hologram number at TristarAuthentic.com.
★ New Record Authentication ticket: Add a TRISTAR Authentic hologram to your item! Purchase a New Record if you are adding the first signature to your item. PURCHASE TICKETS AT THE SHOW.
★ Add-On Authentication ticket: Purchase an Add-On authentication ticket if you are adding a signature to an item that already contains a TRISTAR Authentic hologram. PURCHASE TICKETS AT THE SHOW.
Only items signed the same day at the show can be authenticated by TRISTAR. Once you have obtained your signatures for the day (or have some spare time in between signings), head over to the Authentication table, which is at the exit of the autograph signing area.
AUTOGRAPH TICKETS
★ Autograph ticket: You must have a ticket for each autograph you want to obtain. Fees vary for each guest PURCHASE TICKETS AT THE SHOW.
★ Inscription ticket: Have the player add a career achievement or personalization with their signature. (Autograph not included. Must have an autograph ticket to purchase an inscription ticket.) *Fees vary. Some players may offer 1 free inscription.
★ Photo Opportunity ticket: Have your photo taken with your favorite stars! Fees vary. A professional photographer will take your photo and print an 8" x 10" photo within just a few minutes! No phones or cameras are allowed in the Photo Booth. *Fees vary for each guest.
★ Items are not included. You will need an item for the player to sign, and may need a certain ticket for different items. Be sure you have an item before you buy a ticket. Don't have an item? unsigned merchandise may be purchased at the official show merchandise.
★ Order early! You will enter the autograph ticket line by the number on your ticket. The earlier you buy, the lower your ticket number will be. Don't want to wait? CLICK HERE FOR MORE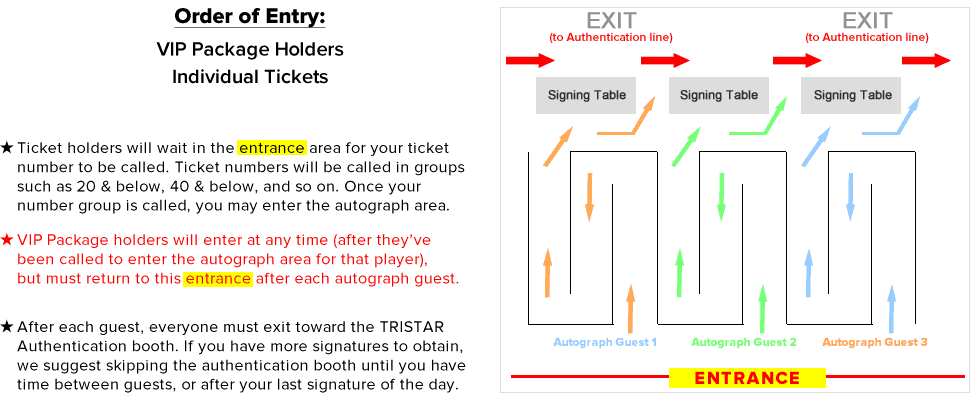 SIGN UP FOR FUTURE SHOW ANNOUNCEMENTS
Enter your email address below to sign up for announcements regarding future San Francisco shows and other Bay Area related emails.
Join our VIP mailing list below for special offers on autographed memorabilia including Deals of the Week & more! ↓
Copyright © TRISTAR Productions, Inc. All rights reserved.