SAN FRANCISCO COLLECTORS SHOW
COW PALACE ★ APRIL 28-30
LINE PRIORITY PASS
ONLY $100
VALUE: $200+!
Only 100 Line Priority Passes Available!
AVAILABLE FOR PURCHASE AT THE SHOW
Your Package Includes:
3-DAY ADMISSION PASS
Purchase this package and you can catch every minute of the show action on Friday, Saturday and Sunday. (Value: $34)
FIRST IN LINE FOR ALL AUTOGRAPH GUESTS
Tired of waiting in line? Not anymore. Get in line regardless of your autograph ticket number! (Value: SAVE HOURS OF TIME!)
Autograph tickets not included.
AUTHENTICATION LINE PRIORITY
Line Priority Pass holders will have the opportunity to enter a special Line Priority Authentications Line in the TRISTAR Authentications area.  (Value: Save hours of time!) Additional fees apply for the TRISTAR Authentications service.
2 TRISTAR AUTHENTICATION TICKETS
Receive two (2) TRISTAR New Record authentication tickets. (Value: $20)
*Please note that based on the date/time that you purchase your package, you will be assigned to a Line Priority letter group (A, B, C or D). Your letter group indicates how quickly you go through each autograph line. For example, those with the "A" on their badges enter first, following by "B" and so on. So, order your package early!
AUTOGRAPH LINE PRIORITY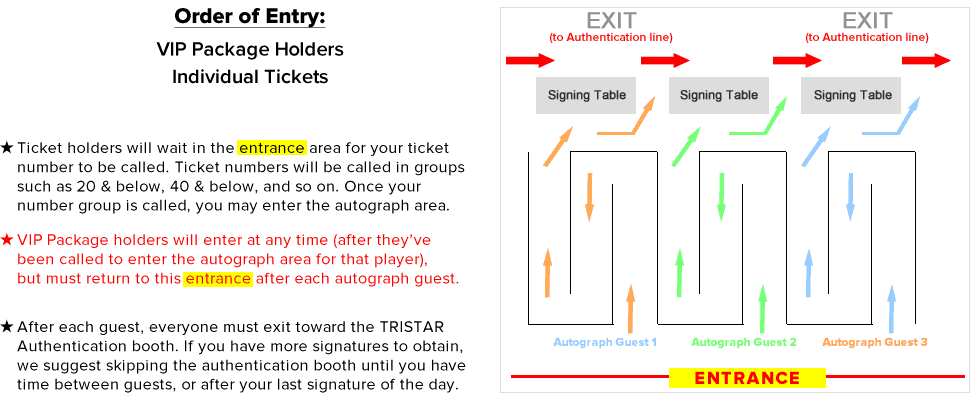 A $5 processing fee is added to each advance order.


Copyright © TRISTAR Productions, Inc. All rights reserved.